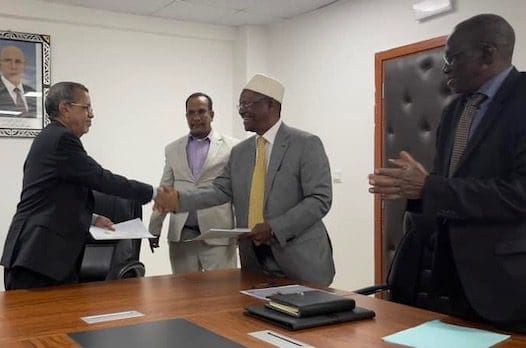 A tripartite joint venture agreement for the expansion and operation of a 2,000-hectare farm at Boke was signed today at the Ministry of Agriculture's premises.
Yahya O., Minister of Agriculture for the Mauritanian Government. Ahmed El Waqef signed the agreement for the Boghé Group for the Development of Agriculture and Livestock, known as "DYNN", with the Chairman of its Board of Directors, N' Gaide Ibrahima Kayou, and its Vice-Chairman, Edward Moring, on behalf of the Afro-American Society for Agriculture and Cooperation.
The agreement stipulates that Boke Group for Agriculture and Livestock Development will provide two thousand hectares of agricultural land on a temporary basis for the benefit of the US company as a result of its farm expansion. 80% of which will be operated by the company and 20% by the landowners for 20 years.
The Mauritanian Minister of Agriculture said that the government is committed to protecting the public interest of the project and the interest of the members of the Group for Agriculture and Livestock Development.
He added that the first joint venture of its kind in Mauritania should be a great success as an example to encourage farmers and investors.
"Travel aficionado. Incurable bacon specialist. Tv evangelist. Wannabe internet enthusiast. Typical creator."