Even in adulthood, we recall – sometimes very briefly – many vivid and immortal moments from our childhood. If these memories are undoubtedly so-called long-term memory, how the brain stores this detailed information over such a long period of time remains to be elucidated. Biologists at the Albert Einstein College of Medicine now offer some answers.
Some aspects of the cellular basis of memory are already known. We know that memories are created by nerve cells (neurons) and then stored in an area of ​​the brain called the hippocampus. They form when repeated neural stimulation strengthens the connections between neurons (synapses). Long-term memories require particularly strong synaptic connections; These are regulated by specific proteins called "immediate early genes" (or IEGs). Immediate early genes)
IEGs are transiently and rapidly activated genes in response to a variety of cellular stimuli. However, despite the rapid turnover of transcripts and proteins, it is still unclear how IEGs support long-term memory. " Paradoxically, it takes a long time – several hours – to form a lasting memory, while the mRNAs and proteins associated with the production of proteins disappear within an hour. », Dr. Sulagna Das insistsis a research assistant professor of cell biology and first author of the study.
:: A t-shirt that supports science! ::
A memory integrated by a feedback loop
In an attempt to elucidate the process, Das and his colleagues investigated long-term gene dynamics after neural stimulation in mice. They created a mouse model in which all mRNA molecules from the Arc gene were fluorescently labeled. The Arc gene is an IEG involved in various types of synaptic plasticity and plays a key role in the transformation of our experiences into long-term memories.
The team induced synapses of mouse hippocampal neurons, then used high-resolution imaging techniques to perform real-time imaging of Arc mRNA dynamics in individual neurons in culture and brain tissue.
Unexpectedly, the researchers found that a single burst of stimulation was sufficient to trigger multiple cycles of transcriptional reactivation in the same neuron—cycles during which the Arc gene encoded memory mRNA molecules that were then translated into synapse-strengthening Arc proteins.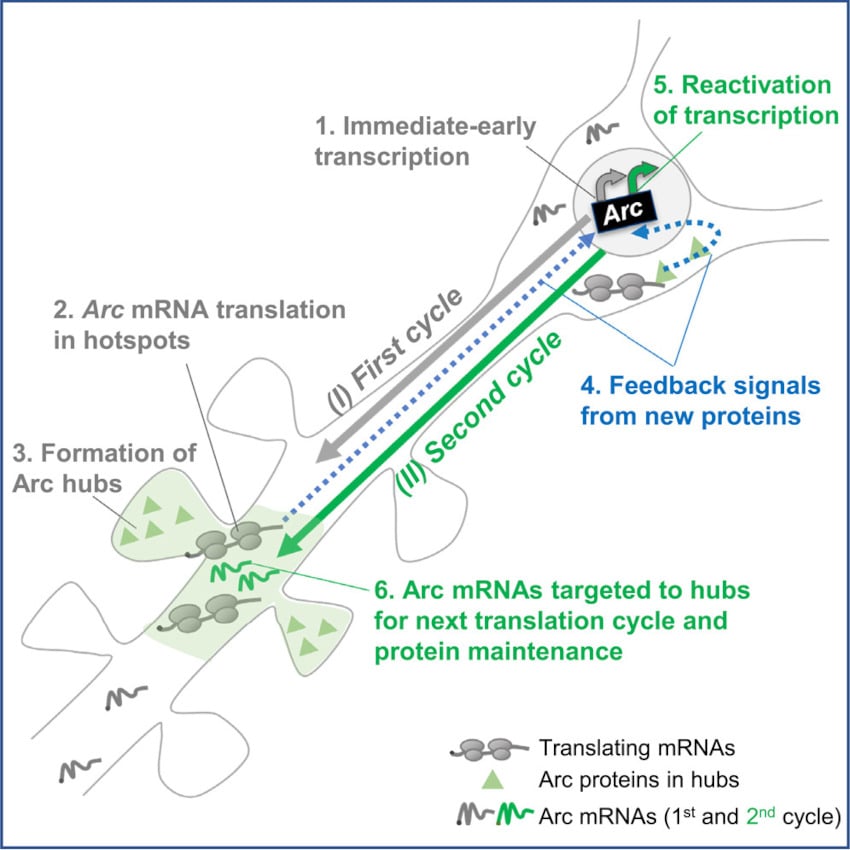 New Arc proteins engage in autophagic positive feedback to reactivate transcription. " Some of the protein molecules produced from this initial synaptic stimulus return to Arc and reactivate it, starting another cycle of mRNA synthesis and protein production, and so on. says Dr. Robert Singer, director of the RNA Biology Program at Albert Einstein College and co-author of the study. This feedback loop that allows the formation of long-term memories was previously unknown.
Accumulation of proteins along dendrites
Ads must be removed from the site
While continuing to support us ?
It's easy, subscribe!
right now, 20% discount On a yearly subscription!

The team also observed that Arc mRNAs resulting from these repeated cycles are preferentially located at sites previously marked by Arc protein, thus creating translational "hot spots" along dendrites that form local Arc protein foci. Over time, these "hubs" are maintained by successive rounds of mRNA synthesis, localization, and translation. " These transcription-translation coupling cycles support protein expression and provide a mechanism by which a short-term event supports long-term memory. Summarize researchers in Neuron.
Dr. Singer takes the example of memorizing a poem. He explains that in order to remember this poem for a long time, you should start by reading it several times. Each new reading can be thought of here as a continuous stimulus, so each one will add new feedback proteins to the synapse – forming and consolidating the memory. " One of the most remarkable features of the brain is its ability to learn new information and store it for long periods of time. ", he declared.
Unfortunately, this wonderful mechanism can sometimes malfunction. Defective expression of the Arc gene is implicated in memory impairment in humans, Dr. Das points out; It is associated with neurological disorders such as autism spectrum disorders, schizophrenia and Alzheimer's disease. A better understanding of the molecular functions of this gene, particularly its response to nerve cell stimulation, may help pinpoint the causes of these disorders.
!function(f,b,e,v,n,t,s) {if(f.fbq)return;n=f.fbq=function(){n.callMethod? n.callMethod.apply(n,arguments):n.queue.push(arguments)}; if(!f._fbq)f._fbq=n;n.push=n;n.loaded=!0;n.version='2.0'; n.queue=[];t=b.createElement(e);t.async=!0; t.src=v;s=b.getElementsByTagName(e)[0]; s.parentNode.insertBefore(t,s)}(window, document,'script', 'https://connect.facebook.net/en_US/fbevents.js'); fbq('init', '227732948895853'); fbq('track', 'PageView');